From the great mountains of the Sunshine Coast to the prairies of Camrose, AB.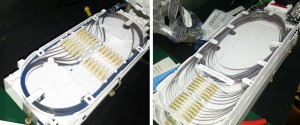 For the last 4 months, our team has been working hard in constructing multiple networks in the lovely region of Gibsons and Sechelt, B.C. We have participated in the largest deployment of ressources for the new FTTH platform being offered to the population of this region. After completion of these networks, we are moving the team back to the Camrose, AB region.
We started working in Camrose around August/September of last year. Our client was then preparing the "backbone" of their networks. They are now ready to deploy these new circuits by the end of April, 2014. It will be a good challenge for us to get into the reality of the Canadian winter!!!.. Enough of the eternal Spring of the Sunshine Coast. We are going back to the roots of our humble beginnings in western Canada.
The GO! Team…